50 travel products. Our top 50! Before heading to that… Traveling is essential and also a fun activity. Travelling teaches a person a lot of things. Traveling to different places, dealing with their currency, and also learning their culture is a surreal experience and is also a very knowledgeable one. Vacations are essential for everyone, and experiencing a whole new world is an escape.
There is always so much to take away from the place you travel. It is a great way to indulge in the new culture, language, cuisine, faith. You can bond with the people you travel with. It is a very relaxing and rejuvenating thing to do. Traveling changes a lot of things in life that are mostly going on with the same pattern. It changes perspectives for life.
50 Travel Products: Travel Basics You Should Own
Make sure you do not have the unnecessary items which will only add weight to the luggage. The basics one should own for traveling are, first of all, the right kind of backpack to accommodate everything which is needed. Packing for camping, climbing, or hiking can be different from traveling from one country to another. The suitcase is essential then and if camping you need to have a backpack. Use organizers for traveling.
Organizing is essential from getting confused and finding the right item when it is needed. Always pack essential clothing and not overhaul everything. Pack your toiletries according to their use. If traveling for 2-4 days, you can use small bottles to pack those so that they are not heavy to carry. Carry your gadgets separately. They are critical while traveling. Carry a little first aid kit. Carry cash, cards, passport, and other travel documents safely and individually. These are the basic things a traveler should carry.
50 Travel Products:
1.) 18/10 Stainless Steel Collapsible And Reusable Straw Set With Brush
It is time to go green and become responsible for nature. Even if a little bit of plastic usage is reduced, it can cause a lot. Straw is used mostly by everyone to have many drinks. These straws are mostly plastic and can cause a lot of harm to nature. To go green and that too in style, one can use this stainless steel collapsible and reusable straw set, which comes with a cleaning brush.
These are heat transfer and thermal conductivity technology and are very easy to use. Also, these come to collapse in a more compact size for easy carrying. We can easily keep in the pocket of your jeans or your purse while traveling. It is of stainless steel; hence it is durable. It comes with a cleaning brush, so it is effortless to clean too. We can also reuse the straw many times and stop plastic usage. Everyone should use this stainless steel straw and become responsible for nature.
2.) Seven pcs/set Waterproof Packing Luggage Organizer
Organizers are always a good idea while traveling. This way, you know where the things you need are packed. This beautiful seven pieces set of waterproof packing luggage organizer is a beneficial product. You can use this to keep your luggage neat and clean.
There are seven different pouches with different shapes and sizes, which can be used to store the clothes, toiletries, make-up, shoes, etc. in a very organized manner, and this helps not getting confused as to where the things are.
Made with polyester, they are waterproof, which is again, a perfect thing because what if something leaks or if there is rain, all your luggage will be in a good state. They are designed in a very stylish manner, and it will be a beneficial product to have while traveling.
3.) Adjustable Nylon Luggage Straps
Adjustable nylon luggage straps are to keep the extra luggage while traveling. For instance, there are always situations wherein your luggage is almost full, and you are squeezing in more items into the luggage that makes it bumpy on the sides, and it is not even easy to close also.
You can use these adjustable nylon luggage straps for the easy carrying of more useful items you cannot leave without. Since these straps are nylon, they can take up heavy items also. You can strap on your extra pair of shoes onto the main suitcase and not worry about carrying it in hand.
This adjustable nylon luggage strap is a beneficial traveling product to have.
4.) Collapsible Outdoor Sports Water Bottle
A collapsible outdoor sports water bottle is designed to be reduced into a smaller size so that it can be lightweight and easy to travel with. It is a very vital product to be carried while traveling. Water bottles are essential while traveling, and for the campers, hikers, and people mostly who take up sports activities always need extra bottles that they can carry easily while traveling.
This water bottle is designed to be perfect for such outdoor activities. It also has a soft bite valve for easy drinking and is made up of good material so that it can be used and reused.
Carrying your water bottle is very important while traveling, and this water bottle is very easy to use and ideal for everybody and not only travelers and sportspersons.
5.) Collapsible Travel Coffee Mug
This collapsible travel coffee mug is an excellent traveling commodity. Since this cup is collapsible, it can be folded into a smaller version and kept in the backpack, and it won't also take a lot of space. For the campers and even travelers, it is convenient to carry your cup to drink from. This cup is from good material, and it is also leak-proof, so it will not be a messy thing to carry. You can carry any kind of fluids in the cup.
This cup is perfectly designed for outdoor activities and is very useful. It is easy to carry with, and one can enjoy hot beverages anywhere without any problem. Carrying one cup is also very eco-friendly as you don't litter around with Thermocol and plastic cups.
6.) Compressed Magic Towel for Outdoor Travel
Compressed towels are an advantageous and essential invention. A towel is needed for many reasons. It is to clean almost anything. The material this compressed magic towel is for is cotton, and it unfolds when putting in water. It can serve many purposes when traveling outdoor.
For example, when you are camping or even traveling on the road a compressed towel is an essential traveling commodity to have. They are also very easy to carry. They are lightweight and can be put in the bag in more than one number. These compressed magic towels are a must-have for travelers.
7.) Digital Luggage Weighing Scale
This small gadget can be very helpful when you are traveling as it can be used to measure the luggage beforehand to avoid the luggage being overweight. It can be carried around to measure the weight whenever a person is leaving for the airport so that they don't have to face unnecessary time delay.
This weighing scale is very handy and shows the weight of the luggage on the digital screen. It is a very useful gadget for people who fly most of the time.
8.) Disposable Towel
The disposable towel can be off great help. A towel is used for miscellaneous reasons. It is one of the mandatory things travelers should carry. Not only the people who go camping, hiking, and adventurous wandering but like everywhere, even if you traveling in buses, cars, and trains, etc., towels are a must-have.
It helps clean any mess. This disposable towel is packed like a small tablet in an individual packing to save it from getting dirty, and you can put it in water to unfold it, and it will serve its purpose. It is effortless to carry.
You can put many of them in your backpacks, purses, and use it when needed. Disposable towels are mandatory traveling essential.
9.) Durable Tactical Molle Water Bottle Holder
A water bottle holder can be a good help while traveling. What if you need to go hiking or traveling in a way where you don't get water quickly. With a durable tactical Molle water bottle holder, you can always carry more than one bottle. You can easily strap it anywhere you want.
It will be a great help in situations where you need more water. This perfectly designed durable water bottle holder can even be helpful for joggers who can strap it up around their waist. It is very lightweight and is very helpful for all the people who love hiking and climbing.
This water bottle holder will be a great asset and should be considered for its many uses.
10.) Foldable Solar Energy Heated Water Bag
Hot water is needed for so many chores. And when you are traveling or being more particular camping, climbing, and hiking, you cannot always light up a fire to boil some water up. This uniquely designed Foldable Solar Energy Heated Water Bag can become a great asset while going on such expeditions.
There is no need to heat water every time you need it, and it is also a good storage bag for water. Since it operates on solar energy, one can fill up the water bag and hang it to their hiking bag, and it will instantly give hot water when required.
It is foldable, so you can always fold it and put it in the bag when not required. It will not take a lot of space and will be very light on the backpack. This water bag is a must-have for the campers.
11.) Inflatable Double-Sided Comfortable Pillow
The inflatable pillow is made up of high-quality material. It allows you to inflate the pillow anytime you want to relax. You should buy Inflatable Double-Sided Comfortable Pillow because it is perfect for outdoor activities, camping, and adventures. It has a perfect size that allows you to bring it wherever you go.
12.) Insulated Water Bottle Pouch
The insulated pouch for a water bottle is a high capacity water cooler bag. You should buy Insulated Water Bottle Pouch because it is a perfect tool for keeping water cool on an outdoor trip and adventure. It allows you to preserve the coolness of the water along the journey.
Also, it has a strap that allows you to handle it quickly and in a much better way. Besides, it keeps the water cool on the adventure and outdoor trips.
13.) Luggage Tag With Assorted Designs
The luggage tag has a variety of adorable designs that you can choose from. You should buy Luggage Tag with Assorted Designs because it allows you to travel without losing your luggage. The bright colors of the luggage tag allow you to spot your traveling bag easily, among other traveling bags.
14.) Multi-functional Travel First Aid Kit Set
We use the travel first aid kit set for multiple functions. It is widely used for outdoor activities and military activities. You should buy Multi-functional Travel First Aid Kit Set because it is packed with 80 pieces of the survival kit in a bag. It lessens your stress when an emergency situation arises. The travel first aid kit set has compartments.
These compartments help you to identify the emergency supplies and even remember them.
15.) Multifunctional Waterproof Travel Bag
A travel bag is what we use for multiple functions. You should buy a Multifunctional Waterproof Travel Bag because it allows you to travel in style. It is also a versatile, sleek bag, and it looks very attractive. It has external pockets.
You can use external pockets for small items. It also has a separate compartment. You can use this separate compartment for shoes.
16.) Portable Foldable Water Bag
The portable water bag is perfect for people who always feel thirsty. You should buy a Portable Foldable Water Bag because it is handy and portable. It gives you a convenient option for storing water.
Besides, the foldable water bag has a hook. The hook allows you to hook the product to your hiking bag. It is perfect for hikes and other outdoor adventures.
17.) Portable Outdoor Water Bag Container
The water bag container is a must bring for the camping trip. You should buy a Portable Outdoor Water Bag Container because it is ideal for convenient storage of water while on an outdoor adventure.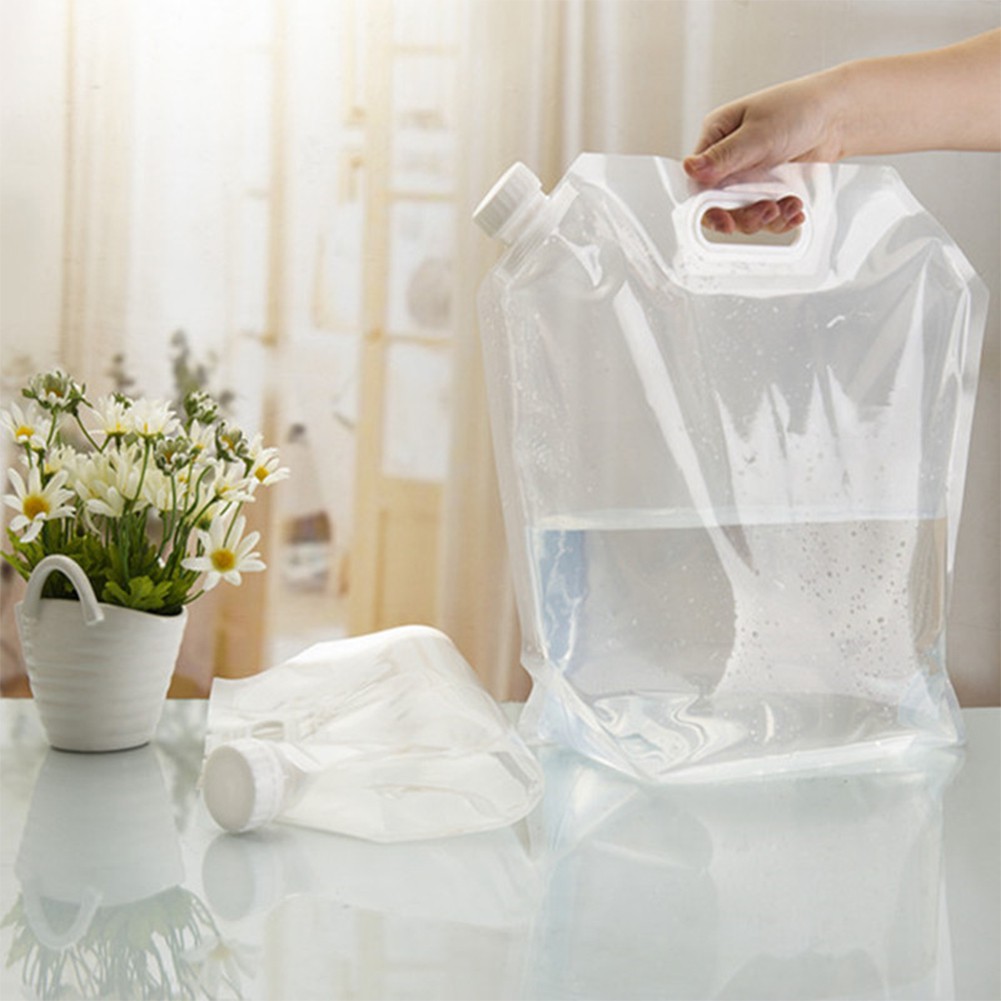 It has a folding feature. The folding feature also makes the water bag easier to tuck in the luggage. It provides the feature of transparency. Also, it has a very comfortable handle.
18.) Portable Water Bottle Bag
The water bottle bag is beautifully handmade. You can take it anywhere in a fashionable way. It offers a variety of colors to choose from. You should buy a Portable Water Bottle Bag because it provides the feature of heat resistance, insulation, and preservation.
It is also very easy to carry. You can use it for outdoor and sports activities. It has a strap that is long and removable, and this strap makes the product easier to carry it around.
19.) Silica Gel Travel Luggage Tag
The luggage tag is the accessory for ladies. You should buy Silica Gel Travel Luggage Tag because it is a perfect accessory for your travel bags. It comes in a wide variety of designs and also in different colors. It gives you options to choose from different colors like burgundy, pink, dark blue, and light blue.
20.) U-Shape Travel Pillow
The travel pillow is of quality memory foam. It has an ergonomic design; this design of the pillow supports the neck and the head. You should buy U Shape Travel Pillow because it has an adjustable design that is especially to the snug fit for dozing off.
It does not irritate your skin as the pillowcase is of soft silver fox texture. To store it quickly, the product comes along with the pillow bag.
21. 20,000mAh Portable Solar Power Bank
When you're in transit and are on an outdoor trip with your friends and family, there's an item that just HAS to be at your side all the frigging time. Your phone. Are we right, or are we… right? Double question intended, and it's meant for us, too.
If you're like us and you love letting people at home know how your trip is going, then constant updates online is a thing you're fond of. That, and a whole bunch of picture-taking. So, when you're out and under the sun, far from any plugging outlet, you'll want this…
The 20,000mAh portable solar power bank. Charge more than one gadget at a time with its 2-slot capacity. Moreover, it has a solar panel that allows this power bank to recharge under solar energy. It's the outdoor enthusiast's charger, indeed!
And with ABS plastic cover and silicone frame, it's durable as it is shockproof. It can withstand abrasions and jarring, and still maintain its quality.
22. 3D Sleeping Eye Mask
Getting good ol' shut-eye may present itself a challenge when you're on the road. Or in the air. Regardless of the mode of transportation, trying to catch some Z's while traveling is a toughie for most people.
But not anymore, with this 3D sleeping eye mask. Bright lights, whether artificial or natural, are among the causes that hinder you from catching sheep. The 3D sleeping eye mask has a polyester lining that effectively shuts any light out
At the same time, its sponge inner lining provides you with a plush feel when you have it on. No rough edges and surfaces that will cause discomfort around your eyes. Only a soft eye mask that will turn up the Relaxation Mode as you sleep.
23. 5-In-1 Travel Camping Utensil
Lessening the bulk is the best strategy to follow when going on a trip. Pack light. The age-old tips that we often disregard. When it comes to utensils, you can pack light so long as you have the right items to bring along with you.
Items such as this 5-in-1 travel camping utensil. Instead of carrying a piece of dining utensil each, have one that has all 5 in the same handle. It has a spoon, a fork, a knife, a bottle opener, and a whistle. That's more than you'll get with regular utensils.
Additionally, they contain durable stainless steel materials as well as hard-wearing plastic. You can be sure to rely on this camping item for a long period of time. Reuse them as often as you'd like wherever you're headed next.
24. Camouflage Passport Case Holder
Speaking of passports, you should always take good care of it. An elementary reminder. Still, it has to be said because we tend to forget that it's one of the vital instructions we should never miss when we're on the go.
How about a protector that will solve this problem? The camouflage passport case holder will safeguard your passport from dirt and other particles that may pose danger to the said document. Plus, it's waterproof. Moisture won't ruin its cover, nor its pages.
Let your passport be tamper-free and have a hassle-free check-in once you're at the airport. It's a measure to take to avoid unnecessary stops and questions that are going to ruin your travel-mood. So have this camouflage passport case holder today!
25. Cartoon Print Garment Cover
Going somewhere special and your "special-wear" has to be packed in a bag? The nightmare begins when you open it up and find out it's been splotched with dirt. And since you're not home, there's no way to wash it off.
Shield your clothing with this amazing cartoon print garment cover. It won't crease and crack because of its high-quality make. Clothing will be stored and kept clean and away from dust particles and moisture. Why? Due to the fact that it's waterproof!
Whether you're carrying garments from your home to the office or to an event, or are traveling, this cartoon print garment cover will guard your apparel for a squeaky-clean wear once you unwrap them. By the way, it's also fabric-safe.
26. Colorful Traveler's Notebook/ Notepad
Fond of jotting down details about your trips? Akin to keeping a traveler's diary or journal? We are, too! If you're not, you can always add this to your hobby-list. Store memories of your trips with your friends, family, and loved one with…
This colorful traveler's notebook/ notepad. It has smooth pages that will make writing seamless and silky. Choose from a variety of bright colors. Even better, collect them all! Write about more than just traveling, but any even you'd like to record on paper!
It even has a leather string than can be utilized to secure the notebook, so that leaves and pages won't get unnecessarily creased and folded. Just a little added security for your traveler's notebook/notepad.
27. Disposable Elastic Toilet Seat Cover
There's one factor that many don't look forward to when traveling. At least, for those who are very particular with their hygiene habits (just as we are). Public toilets. Eww. You have to admit… nobody looks forward to that.
Stay hygienic and safe from germs with the disposable elastic toilet seat cover. Sit with ease when you're in public toilets and no longer be afraid of pesky bacteria. This elastic toilet seat cover will make sure of that.
Further, its stretchable, elastic make can fit onto any toilet seat size.
28. Ergonomic Baby Carrier
For mommies and daddies who love going on road trips, you're going to want a carrier that won't only carry your baby. But you'll want a carrier that will secure them in place while letting you strap them on with comfort.
And this ergonomic baby carrier is it. Comfortable for both you and your baby, it has sturdy straps that can withstand any weight. At the same time, its waist belt offers back support. Thus, your shoulders and spine won't be discomforted or strained.
Most noteworthy, it has a shock absorption bench that's thickened with a 15mm buffer cushion. Your baby will sit tight and tucked in without being annoyed by motions you might make while you walk. Take this with you and you and your tot will have fun outside!
29. Genuine Leather Laptop Messenger Bag
Okay, okay. We totally understand if you're the type who likes to bring work with you even when you're on vaca. No judgment here. If that's what works for you then you do you. However, you'll need a bag that will suit your up-and-running-lifestyle, as well as your now vaca-mode.
Take a look at this genuine leather laptop messenger bag. You're getting premium leather at its highest quality. First, it looks amazing. With that shiny finish and tone that will catch anyone's attention. Second, it's scratch and abrasion-resistant.
Faux leather doesn't usually have this property, but this genuine leather laptop messenger bag does. Store your laptop inside it on your way to the office or to the beach, and your gadget will be kept safe. Also, the bag itself won't incur damages after repeated use.
30. Cellphone Universal Telescope Lens
For those of us who don't have DSLR cameras… Rather, for those who do but don't feel like carrying them with you on certain occasions… You'll still have the means to take beautiful photos DSLR-style. All you need is a device to upgrade your phone's camera.
And this device is the cellphone universal telescope lens. Zoom in and zoom out the way you would an actual camera with this enhanced zoom feature. Capture images clearly with your handheld. No other gadgets required.
Certainly, it installs quite easily. It's a clip-on. So, simply clip it on your mobile camera's lens and click away. To add, it's super lightweight, it won't weigh you down. You won't even feel it's there!
31. Genuine Leather Travel Bag
Going for a quick drive with your loved one somewhere special? Traveling from home to your office with a ton of things to bring along? Do so in style! Get your trend on with a bag that will carry your belongings a fashionable way.
You won't have to look any further. It's here on our #31 spot. The genuine leather travel bag. It has a lining that will safeguard the items inside from dirt, moisture, and abrasions. That said, the lining of the bag itself is scratch-resistant.
More importantly, it has a shoe compartment that's designed especially for footwear. Your shoes will be shielded from folds and jarring with such a cubicle, if we may call it that.
32. Genuine Leather Travel Purse
When you're on the move, it's easy to get distracted when you carry too many things with you. Luggage, wallets, pouches, you name it. Why not have your essentials in one holder. That way, you'll have a more sweat-free journey.
Like this genuine leather travel purse. It's only a wallet. It has so many pockets, you can insert credit cards, I.D.s, and more. There's space for your cellphone, earphones, and other handy items you want with you in transit.
Above all, it has an RFID blocking property that enhances anti-theft protection. Hence, your important cards will stay safe. Their information kept shielded from those who might try to steal them. Boom.
33. Inflatable Soft Cushion Travel Pillow
Are you the type who finds it difficult to sleep in a position that's comfy when you're on the road? And when you're on a plane? There's just no possible pleasant sitting arrangement that will allow you to sleep without hassles.
Well, there is now. With the inflatable soft cushion travel pillow. It's an innovation to travel pillows and you're going to love it! Sleep face forward and avoid that head-roll from side to side when the vehicle you're in is in motion.
Its sides are hollow so that you can rest your arms in them as you nap away.
This inflatable soft cushion travel pillow will ensure proper rest as you head onto your next destination during your getaway with your friends and family.
34. Luggage Suitcase Cover
You've got a chic and sleek personal style that's reflected in the clothes you wear. Outfits-of-the-day when on vaca? You've got them down to a T! Showcase that very same style on your luggage and match them with what you wear!
With the luggage suitcase cover. Pick from an array of psychedelic and funky designs! Better yet, have them all! Mix and match them with your apparel. They're stretchable. Therefore, they can fit any universal-sized roller bag.
What's more, their bright tones will make your luggage easier to spot.
35. Multifunctional Cosmetic Organizer
Love makeup? Love bringing your cosmetics along with you on vacations? We do, too! Full-face on the beach? During camping? Trekking or a drive down the road with your loved one at your side. Why not? Have your makeup kit with you!
And let this multifunctional cosmetic organizer be it! You can put as many makeup items in it because of its wide dimensions in height and in width. Also, the underside of its lid has pockets for storing smaller makeup essentials.
With its metallic outer surface, it's definitely every girl's dream makeup kit. Have it now and store your cosmetics in one big bag. Organize them and carry them with you wherever your feet take you.
36. Multifunction Medicine Organizer
Being away from the comfort of home and letting yourself have some time of relaxation is something to look forward to. Especially after long days of hectic schedules and piled up work. You and your boo deserve to get away for a while.
However, you also have meds, vitamins, etc. to think of. Don't worry. You can take them with you hassle-free with the multifunction medicine organizer.
37. Multifunction Travel Clutch Wallet
Passports. Credit cards. Other essentials documents and whatnot that is needed whenever you travel to other countries. You're a travel-enthusiast. In this case, you already understand how important it is to have said essentials with you at all times.
Likewise, it'll be unhelpful to have them in separate pouches. That'll have you waste time rummaging through your bag to look for them. On the other hand, with the multifunction travel clutch wallet, you can have them in a single zip. The sturdy and thick zipper of a wallet that's much larger than regular ones.
With different slits and pockets, not only your travel essentials can be included in this multifunction pouch. Any other item you feel might be required, you can insert here, too.
38. Nintendo Switch Travel Case
Gamers, on your mark, get set, Nintendo Switch! For those who can't stay away from their portable gaming devices especially when you're out of the office… You're planning for your next trip and appropriate travel equipment is needed to keep your console protected.
This, you can do with the Nintendo Switch travel case. It has slots that are specifically shaped for your controllers, consoles, game cards, and the like. The padding inside is shockproof. Hence, you'll be assured that your equipment won't be scratched or bruised.
The size of the bag is perfect for a carry on, and it's lightweight for your convenience. It has a non-slip handle and a shoulder strap in case you want to lug it around that way.
39. Perfume Atomizer Refillable Bottle
Want to bring your favorite perfume with you on vaca? You should! But then, are you thinking about how bulky it might make your travel bag if you include that large perfume bottle in it? Yep. Same dilemma.
Yet not anymore, with this perfume atomizer refillable bottle. Believe us when we say that this isn't your ordinary perfume bottle. It refills from the bottom! Simply insert the nozzle of the perfume valve at this atomizer's base. Then, pump it up and down until the bottle is full.
No spills. No mess. Only a super-easy way of transferring cologne into this travel bottle. Do it not just for your perfume. Use it for other liquid items and cosmetics you need to-go!
40. Silicone Portable Travel Bottles
How about your lotions? Moisturizer? Shampoo and conditioner? There's no point in bringing big-bottle upon big-bottle of these toiletries and beauty necessities. That's an additional weight you'll want to not have during your vacation.
This is why you're going to need these silicone portable travel bottles. They're miniature in size and have enough space to fill with said beauty necessities for the number of days you'll be away from your own home.
Besides this, each bottle has a squeeze-tube make, you can squeeze out items without inconveniences. Let these plush and adorable travel buddies be in your kit as you travel.
41. Sonic Electric Toothbrush
Clean and bright pearly white. That's the median for wanting a smile that will light up any room. In your case, any vacation or road trip spot you and your hubby are headed to. Just because you're traveling doesn't mean your dental needs won't be met.
They can with the sonic electric toothbrush. Dentists and dental hygiene practitioners have said that the manner in which we brush may sometimes ruin the enamel of our teeth. Also, regular toothbrushes may not be able to reach into the dents of your pearly whites.
That's why this sonic electric toothbrush is the dental pal to have. Its bristles are round and smooth so that they don't do any damage to your teeth's enamel and won't harm your gums. Likewise, its brush size will allow it to reach nooks and crannies better.
With a 700mAh power capacity, it will work well for 25 days straight before needing a change of batteries!
42. Sleep Mask With Wireless Bluetooth Headphones
Creating an atmosphere similar to that of your bedroom lights out and curtains drawn, it's not exactly possible with a snap of your fingers. It's absolutely impossible during times when you're in your vehicle or are on a plane.
Rather, it's not possible unless you have a sleep mask with wireless Bluetooth headphones. This sleep mask effectively blocks light, to simulate a "night time" effect when you have them on. You'll feel as though it really is bedtime.
On the other hand, it has Bluetooth headphones. Not only will your ears be shielded from noise. But you can also tune it to your favorite playlist and sleep through your favorite songs as you head onto Sleepville.
43. Soft Silicone Earplugs
Some of us require not only a good shut-eye, but noise canceling devices. Some of us can't sleep with people chattering around, music playing through speakers, and the like. And you may be among this group. Don't worry. There's a solution to this.
With the use of these soft silicone earplugs, any noise will be canceled out amazingly. You won't have to buy those expensive noise-cancellation headphones that cost a jillion bucks. These pieces are all you'll need to let silence reign as you sleep.
Furthermore, you can have more than one pair! Get them in a variety of colors.
44. Travel Dinnerware Set
Instead of bringing pair upon pair of dinnerware, why not have something that's all-in-1? You've heard of and have seen a lot of these all-in-1 utensils online. Yet nothing comes close to what we have here on #44.
The travel dinnerware set. In a single pouch, you've got a pair of chopsticks, a spoon and a fork. And get this, it has 2 reusable straws, complete with a straw brush! No more constantly wasting money on buying throw-away items.
Have this everywhere you go and eat with a complete set of dinnerware.
45. Travel Quick-Drying Towel In Silicone Case
Being on a trip, a vacay, means that you'll be away from things you're used to having at home. Fear not! Your hygiene items and toiletries can still come with you. And one of them is totally travel-worthy. Here it is…
The travel quick-drying towel in silicone case. Towels? They're big and bulky for your travel bag. Alternately, this travel quick-drying towel has just the right size that's pocket-friendly. Exceedingly rad is how it dries quickly!
46. Sling Baby Carrier
It's a different direction… manner… form… design. Name it what you will. But first, check out why this baby carrier is set apart from others. And find out firsthand why this is a great alternative for carrying your baby when you have your hands full.
The sling baby carrier. It's designed to emulate the way a parent carries a baby in his or her arms. Notice the diagonal direction of this device? As a result, your baby will still feel as though he or she is being carried in your loving arms.
Adjust the strap according to your preference and comfort. And if it's chilly outside, lay a blanket on the sling itself to let your child be warm and snug.
47. U-Shaped Travel Neck Pillow
One of the causes of unease and discomfort when traveling is stiff neck, shoulder strain and back pains. These point to how you sit when in transit and how long you stay in that position. Of course, more often than not, sitting upright for long hours is the root of it all.
To alleviate your body of these muscle strains, use the u-shaped travel neck pillow. It's a simple and practical travel item that will instantly lessen the risk of you incurring said muscle strains.
It supports your neck and your head. As a consequence, it allows your spine to curve in the right position and support your upper body weight so that neither your back nor your shoulder are strained.
48. Unisex Travel Organizer Bag
Having to pull out all of your cosmetics and toiletries from your organizer once you've reach your travel destination can be quite annoying. Only to put them back in once the trip is through. How about an organizer you can simply… hang?
This unisex travel organizer bag does that with sleekness and function. You don't have to bring out the items therein to have ease of access. Hang this bag up and you can easily reach for what you need, clutter-free.
49. Compression Vacuum Bag
Looking for a product that can help you travel light, as well as safeguard your belongings from dirt and moisture? For clothing, we've got you covered. Rather, our item on #49 has got you covered, and it will cover your apparel with much efficiency.
We're talking about the compression vacuum bag. These vacuum bags will assist in sealing your clothing and getting rid of excess oxygen which causes extra bulkiness when packing. Roll your clothing in this item and push air out.
50. Waterproof Electronics and Nylon Organizer Bag for Traveling
Gadgets need their own protection too, especially when you're out and about. Your phone, chargers, power banks, USB chords, earphones, etc. They have to be in an environment that will secure them from heat and from moisture.
The waterproof electronic and nylon organizer bag for traveling is it! With pocket upon pocket for various devices, you'll have a traveling organizer bag that will separate one from the other. Consequently, it will give you the ease of access to them.
The bag's lining is waterproof, the items inside will be kept safe and dry.
Conclusion
To conclude, traveling is enriching in several ways. With traveling also comes the food culture of different places, that is an essential thing for food maniacs all around the world. One should keep traveling as it is fascinating and pushes you off from your comfort zones. It is also a way to meet new people and make new friends.
Learning is the best thing about traveling. Lastly, all these products are excellent and highly useful if you are a constant traveler, and you like to pack light. All these products are of good quality. Traveling is very good for heart and health, and one should visit new places every time they get a chance. It is enriching in many ways.